BOOK ON AMAZON: PAPERBACK AND KINDLE
'Culture and Diversity. Stories for Work and Life'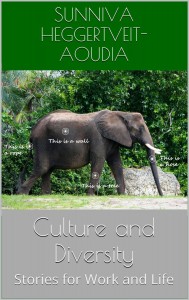 http://www.amazon.com/Culture-Diversity-Stories-Work-Life/dp/295529991X/ref=la_B00X9IVCV6_1_1?s=books&ie=UTF8&qid=1443513598&sr=1-1
Culture and Diversity; Stories for Work and Life is suited for anyone interested in the challenges and opportunities of adjusting to and living happily in a globalized world. A world where we're increasingly faced with great diversity in culture, religion, language, sexual orientation, perspectives and values, both in work and personal life. Illustrating theory with stories and pictures – sometimes with a humorous angle – we are invited to reflect, question ourselves, empathize and broaden our sense of inclusion.
The author shares her experiences, reflections and observations, seen from the angle of a nomadic Norwegian national, a woman, a Diversity and Inclusion passionista. There are also numerous guest stories that enrich the book with various perspectives, the aim being that the reader will be inspired to find own solutions and actions about diversity and inclusion.
REVIEW FROM ALAN CORNES: Author of the books « Culture from the Inside Out. Travel – And Meet Yourself » and « Moral Me? Making good decisions in an intercultural world »
« A first class book for newcomers and experts alike. This really is an excellent book for anyone who wants to understand more about the complex worlds of culture, diversity, and inclusion. I use the word complex because these are areas that constantly surprise those who work in these fields. For, just when you think that you understand an issue, another perspective will reveal itself that sends you back to the drawing board again. Despite this Sunniva Heggertveit-Aoudia's book is surprisingly easy to read, she knows how to ask the right questions and her obvious passion and enthusiasm for her subject matter shines through to the reader from every page. It is written in warm personable style which makes the difficult subject matter easier to digest and absorb. A delightful, valuable, and an interesting read. »
In the press:
– Quoted in French ELLE 28 October 2016 on taking risks:
– Quoted in French ELLE 23 October 2015 on changing careers: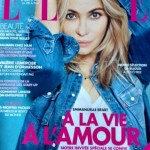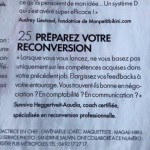 – Interview by PWN (Professional Women's Network), PWN Global Newsletter Q3 2015:
Culture and Diversity: Stories for Work and Life
Founder member of PWN Marseille, Sunniva Heggertveit-Aoudia has selflessly given of her time to the network delivering training sessions, workshops and more recently, by leading the Marseille Mentoring program. Her talents don't end there ! For some time now, she has been dreaming of writing a book that captures some of the day-to-day encounters that she has experienced, that bring culture and diversity to fore.
Sunniva says, « The book came about due to two reasons. When I deliver trainings and workshops, I have noticed that the participants pay more attention when I share own stories. It seems to "spice up" and give life to the theory I present, and I often see that my stories also trigger memories among the participants. People tend to remember facts better when there is a story attached, and there is also evidence that it triggers people's emphatic skills. The idea started to develop that I could write a book about diversity and inclusion through the means of storytelling. I started seeing it in front of me; a "light", slightly humorous book, with lots of pictures. » Read on: https://www.pwnglobal.net/q3-2015-pwn-global-newsletter-culture-and-diversity-
– Interview by intercultures (intercultural training): http://www.intercultures.de/2015/08/28/from-blog-to-book-stories-for-work-and-life/
 —————————————————————————————————————————————————————–
ARTICLES ON DIVERSITY JOURNAL, USA
Generations and Happiness: http://www.diversityjournal.com/10901-generations-and-happiness/
Inclusive Behaviours and the Time Squeeze: http://www.diversityjournal.com/10386-inclusive-behaviors-and-the-time-squeeze/
Language; What is Efficient Communication: http://www.diversityjournal.com/9947-language-what-is-efficient-communication/
Culture, Values and the Impact at Work: http://www.diversityjournal.com/9823-culture-values-and-the-impact-at-work/
Work-Life Balance in a Global Context: http://www.diversityjournal.com/9587-work-life-balance-in-a-global-context/
A New Era of Women Entrepreneurs?; http://www.diversityjournal.com/9144-a-new-era-of-women-entrepreneurs/
Opening the Blind Spot; http://www.diversityjournal.com/7517-opening-the-blind-spot/
Diversity Around the World; http://www.diversityjournal.com/6976-diversity-around-the-world/
The City of Brussels and Diversity; http://www.diversityjournal.com/5918-the-city-of-brussels-and-diversity/
—————————————————————————————————————————————————————-
NEWSLETTERS FOR PROFESSIONAL WOMEN'S NETWORK – GLOBAL (former EPWN, now PWN), FRANCE
Regular newsletters; http://www.pwnglobal.net/marseille-provence