These are the words that represent the candles in my advent wreath. Each week I light one and think of the word it represents. And it made me thinking; how much religion is there in the Christmas traditions that I grew up with and that I still stick to? Let me see; eating from my chocolate advent calendar every morning, drinking gløgg (hot wine), and eating pepperkaker (ginger biscuits), sending Christmas cards with nisse (looks a bit like an elf), decorating with nisse and santa and reindeer and gold and red, meeting friends, going to a Christmas carols concert, buying presents (that no one needs) and having lots of food for about 2-3 days. Hmm, not much religion there, is there? And I actually think that's a correct picture of the general importance religion plays in my home country Norway, generally speaking.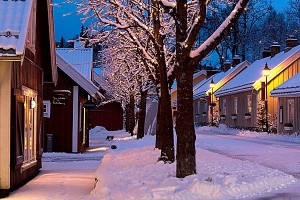 And.. Christmas, actually the whole month of December, is very important in Norway. There is a spirit of joy, a bit of stress, lots of "kose seg" (which means to enjoy life), focus on friends and family – and also charity. There are lights and candles everywhere, lots of decoration, lots of cooking and baking – the month of December is just fantastic..  Which makes me think "mission accomplished" anyway, if I were to look at the whole thing with a religious perspective; lots of love and caring.
(Well, not considering the "julebord" where people tend to get overly drunk and want to tell the "truth" to everyone, which is generally very embarrassing. "Julebord" translates to Christmas tables, which are dinners organized by your employer, or service provider or club/network).
The attached picture is from a tiny town outside Oslo, the street is not decorated yet, but I think you can get some of the spirit through this picture anyway.
Back to the candles; being a coach and all, last week I thought, "I'll choose to be in the perspective of "happiness" for the entire week", and this week I said "last week was so nice, I'll choose to be in the perspective of "love" this week". Thing is that Christmas offers good experiences and a good spirit, whether you look at it from the perspective of religion or not.
HAPPY HOLIDAYS!