Today I got an advertisement in my inbox about an eBook that will teach you to work less and earn more. Sounds like a dream!
I have seen similar titles lately from various consultants selling coaching and training in different formats. It must be a trend..  or a signal, maybe; "we're tired of the old models, here's a new way of managing your life". Maybe the new generation is influencing the older one? The generation that believes in working for a purpose and/or enjoyment, not living to work..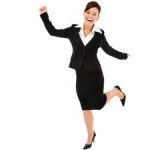 About two years ago I talked with a coach in a seminar who told me "the work-yourself-to-death-attitude is not necessary, we can work reasonable hours AND live a good life". She shared her own story with me, how she had managed to create the life she wanted; a life with interesting work, decent pay and time for her family and friends and hobbies. Her story made an impression on me. My surroundings (including media) have told me, and still tell me, that you have to work "non-stop" to be successful and have a pleasant life moneywise. You have to be active, a go-getter! Especially if you are an entrepreneur..
Hmm, isn't it true anymore?? Is there another way?
Whenever I go to Norway I'm amazed when seeing the traffic jam early afternoon. People work 7,5 hours per day and respect that timing (there are always exceptions, I'm talking in general terms). They have nice houses and nice cars and they have aaaaall afternoon and evening to do other things than work. When I see that, I'm thinking "I have misunderstood something". I have the house and the car, but I didn't have the time during large parts of my adult life – and I still don't – compared to the "Norwegian way".  So, I must admit that this advertisement this morning spoke to me.. Is it really possible?  I guess I should just try one of these trainings or buy that eBook!
Feel free to share your thoughts and experiences on this subject!