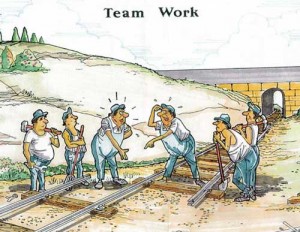 Working in a team can be exhilarating when everyone is right on task, because a whole team is so much more than the sum of its individual parts. But working in a team with different personalities can be complex, even more so when varying cultures are thrown in.
NORSUN offers three different approaches to achieve increased collaboration and productivity in a team. These three are stand-alone programmes, and they can be combined.
'From Here to There' – A Journey
This is a tailor-made team building programme that follows a basic structure and flow, the objectives being to identify and encourage key strengths in the team, develop a team direction and common plan, implicate each person in the future of the team and communicate in a way which is appropriate and encourages increased efficiency.
The programme includes short pre-interviews with each individual of the team, a 1,5- day team building event and follow-up coaching. During the event the team will analyze the 'status quo', visualize the future and work practically on how to achieve described goals and aspirations.
The various modules during the team building event offer a variety of methods and exercises, e.g. energizers/games, line-ups, smiley-ball, splitting in groups, working in plenary, tools like the morphological matrix, meta wheel, visualization, picture cards and paper/colours. There are handouts with information, but no PowerPoint presentations, and the team individuals are invited to be actively participating throughout the event.
Management Drives profiling
The tool and approach 'Management Drives' largely determine how an individual, team or organisation functions. A person's drive predicts his behaviour. It determines her/his motivation to do or not to do something.
A 2-day event tend to cover:
Determining your natural communication style based on your drives profile
Determining which styles are suited to the other drives
Explaining why other drives communicate in this way
Acquiring different communication styles based on understanding and respect
Depending on the team needs : Designing vision/forward plan.
Management Drives helps people and teams improve performance, develop a joint vision and translate it into a clear strategy. The programme includes an individual review of each team member profile, based on an online questionnaire filled in by the participants, as well as individual pre-interviews.
NORSUN is a certified practitioner of Management Drives. You can read more about MD here: https://www.managementdrives.com/en/
Non-verbal communication – Horses as Coaching Partners
This is a powerful module on communication among team members, the objectives being to improve collaboration and communication within the team. The participants work on their listening skills, observing others and themselves. They learn to set own boundaries and respecting the boundaries of their co-workers.
The horses act as coaching partners, providing a mirror and a metaphor for life at work.
Depending on the size of the team, the programme lasts 0,5 – 1 day. There is no riding involved, and no 'horse skills' needed. The method is based on the Eponaquest approach.