Last week I conducted a training in Norway on « Facilitating Diversity in the Workplace", together with one of my partners, Lisa Cooper (profile soon to be found under the tab "partners"). Roughly speaking we talked about:
–        Advantages by having a diverse workforce, spiced up by some real stories about companies that "get it".
–        Inclusion; the legal aspect and the importance of micro-messages.
–        Stereotypes and discrimination and the impact on recruitment professionalism (e.g using intuition) and processes.
We used a cartoon as pre-work, we did interactive exercises and saw a video during this intense half-day training.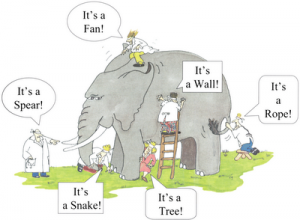 That been said, I enjoyed hearing the diverse view points on the cartoon, the video and the numerous discussion points. The group had little gender diversity, some generation diversity and some national diversity (religion, disability and sexual orientation I did not ask about). And they had opposite view points on several matters. This sparked lots of discussion (and our time management went out the window..) and engagement. I particularly enjoyed the perspectives of a short cartoon video on "Perry the Peacock" (http://www.perrythepeacock.com/). One perspective was "we are beyond the message of this video, it is childish and not representative of where we are on our diversity journey". Another perspective was "it illustrates that sometimes we see and focus on someone's style rather than the work output. I am not sure that we are always able to see the strengths of our diverse staff". Same company, very different view points on the work setting. And that's diversity. It is great to create space to have these discussions and let the different perspectives be aired out. If you are willing to listen, this is where you can grow and learn.
We also had a great discussion on sexual orientation. "This isn't a problem in Norway" was the comment when I mentioned that Witeck-Combs/Harris Interactive found that "78% of Gay, Lesbian, Bisexual, Transgender (GLBT) and their friends/relatives would switch brands to companies that are known to be GLBT-friendly". It is true that the Norwegian society is fairly open, however reports from this group of the population tell us that they still experience stereotyping, discrimination and prejudice. The majority tends to see things from the majority perspective (not feeling and being in the minority perspective), and this discussion reminded me of that.
And inclusion.. So simple, so difficult.. Amazing, though, how much creativity and inclusive behaviours and ideas that bubble to the surface when you ask people. Everyone committed to an action on how to be even more inclusive the next day, and I do think that the people in the office will notice! And when you know that an inclusive environment fosters engaged, energetic, brave and loyal staff – this group will most likely have a good impact on the company for the months to come.
"Researchers found that properly managed and trained diverse work teams produced results that were six times higher than homogenous teams." –Dr. Edward Hubbard, The Business Case for Diversity